Just like every other family, we cherish our own one too. That's why when you sign up to be a part of ours, you can earn PledgeCoins and use them to redeem rewards. This is what the PledgeCare Family is all about.
Every 100 PledgeCoins = RM2 Discount
Earn 1 PledgeCoin for every RM1 you spend and convert them into discounts.
Earn 500 PledgeCoins when you join us as a PledgeCare Family member.
250 PledgeCoins will be awarded for each review submitted for our products on our website.
How do I spend my points?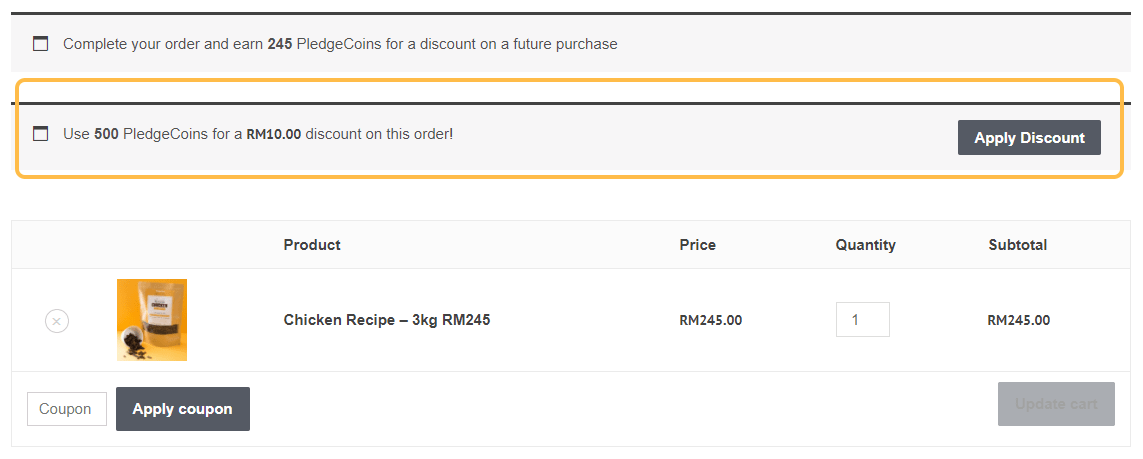 Your total amount PledgeCoins will be displayed on the checkout page. Here you can choose how much to redeem for a discount by clicking on the 'Apply Discount' button.
An account is required and you must be logged
in to be able to earn and spend PledgeCoins.
Simply enter the amount of the PledgeCoins that you'd like to redeem for a discount.
Click OK and voila! You'll see the deduction on the final price. It's that simple.
Frequently Asked Questions