Like other countries, Malaysia struggles with stray dogs and cats. Many of these animals have never experienced life in a loving, family home. Luckily, there are animal shelters and animal rescue organizations that rescue and rehome these animals.
So if you're looking to adopt a dog or a cat in the Kuala Lumpur area, do visit these animal shelters and animal rescue organizations and bring home a furry friend:
OBS: Do note that we, PledgeCare, are not an animal shelter but a social enterprise donating our proceeds to charity. We do not offer any dogs for adoption. However, we encourage you to check out the shelters down below.
1. KL Pooch Resort And Rescue (KLPR&R)
KL Pooch Resort And Rescue (KLPR) is an animal welfare organization who treats and rehomes rescues. Their mission is to be self-sustainable. So if you're not looking to adopt, why not treat your dog with a complete makeover in the Doggie Doos Salon to help fund the maintenance of the place.
They also provide dog boarding. During your pup's stay at KLPR&R, it's possible for him to get a swim in their saltwater pool or getting some exercise on their custom-made slat treadmills.
KLPR&R also hopes to educate people on why it's crucial to neuter/spay their puppies and over time see a decrease in strays on the streets. If you're curious in learning more about KL Pooch Resort and Rescue, you can check out their Facebook or website.
Address: Kalumpang, 44100 Selangor.
Tel: 016-2333647
2. Second Chance Animal Society
Second Chance Animal Society is a no-kill animal shelter with a mission to rescue and rehome stray dogs. Since their beginning in 2009, Second Chance has saved more than 1000 stray dogs in Selangor – and 50% of them have been rehomed.
As an advocate for the "Adopt, Don't Buy" initiative, they encourage potential pet owners to adopt from shelters in an effort to lower the number of strays. The Second Chance shelter is solely run on public donations and voluntary aids.
If you're interested in learning more about Second Chance, do not hesitate to visit their Facebook or Website.
We have also visited Second Chance Animal Society which you can watch down below. If you wish to learn more about our foods or treats, feel free to visit our website here.
Address: Pekan Batu 14, Hulu Langat, Selangor
Tel: 012-9192263
3. Allergic Rescuers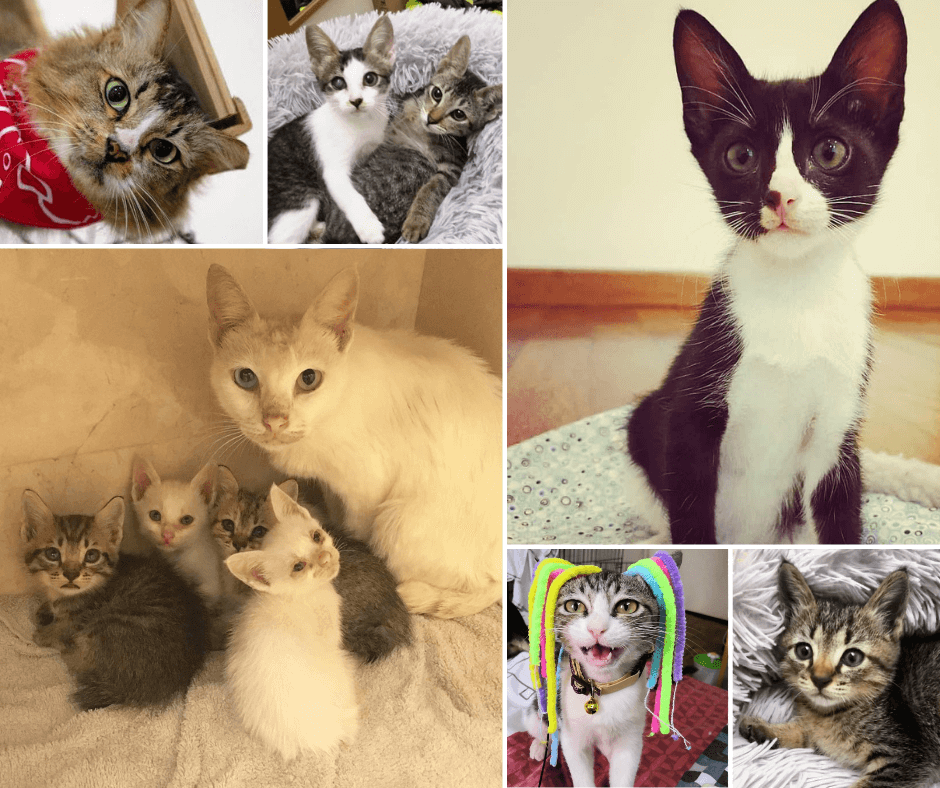 Allergic Rescuers KL is an independent animal rescue group comprised of Rosy Kim, a Korean-American expat spouse who was previously working in the fashion industry in Hong Kong, and Jon Wong, a compliance officer during the week and a devoted animal rescuer on the weekends.
As independent rescuers, Rosy and Jon rely on their own time, energy and financial resources to rescue, foster and adopt out stray animals rescued from the streets, despite their cat allergies. They operate with a lot of help from a dedicated network of fosterers, fellow independent rescuers, and few sponsors who donate funds or supplies.
Since inception in June 2018, they have managed to take 130 animals off the streets and successfully adopted out 90+ of them to loving homes. In addition to adoptions, they also practice TNRM (trap-neuter-return-manage) for cats too feral to be adopted. All animals under their care are socialized, de-wormed, de-fleaed, vaccinated at least once and spayed/neutered if old enough, prior to adoption.
Do make sure to check out Allergic Rescuers KL on Facebook, Instagram and their website.
If you have any inquiries, you can reach them online through Facebook or Instagram.
4. My Pets Haven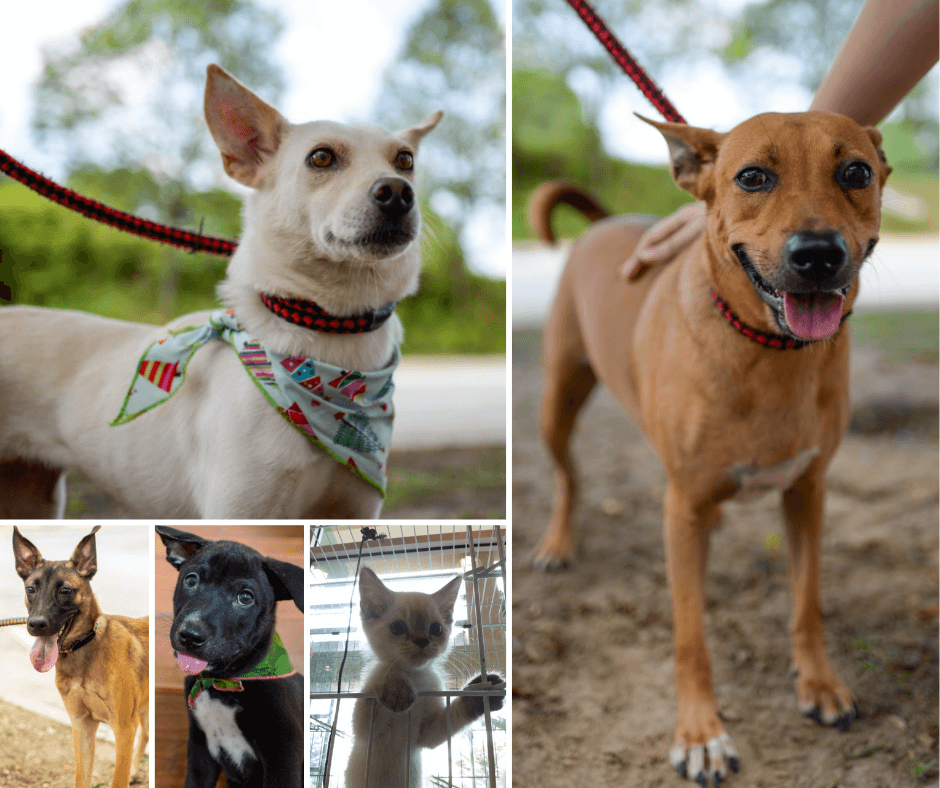 My Pets Haven was founded in the year 2009 by a lady named Aileen Lee who used to work in a pet-shop. However, she decided to open her own rescue centre to help rehome stray animals. Actually, the centre is a pet shop but they don't sell animals. Instead, they rescue strays, neuter them and put the animals up for adoption once they're in better shape.
The centre homes 35 dogs and 8 cats and is solely run by Aileen and one employee. Besides adopting, they also provide boarding, grooming services and sell pet accessories and necessities.
My Pets Haven relies on donations to help with the bills related to our animals. They also welcome volunteers any day to help out – you just have to contact My Pets Haven and schedule a date.
For more information visit their Facebook or Instagram
Like Second Chance animal shelter, we have also visited My Pets Haven. If you're interested in seeing how that went you can check out our video down below. In case you're browsing for new products for your pet, feel free to check out our healthy, raw nutrition diets.

Tel: 019-6632828, Aileen
Address: No. 11-1, Jalan Setia Prima, S U13/S, Setia Alam, Shah Alam, Selangor
5. PAWS: Paws Animal Welfare Society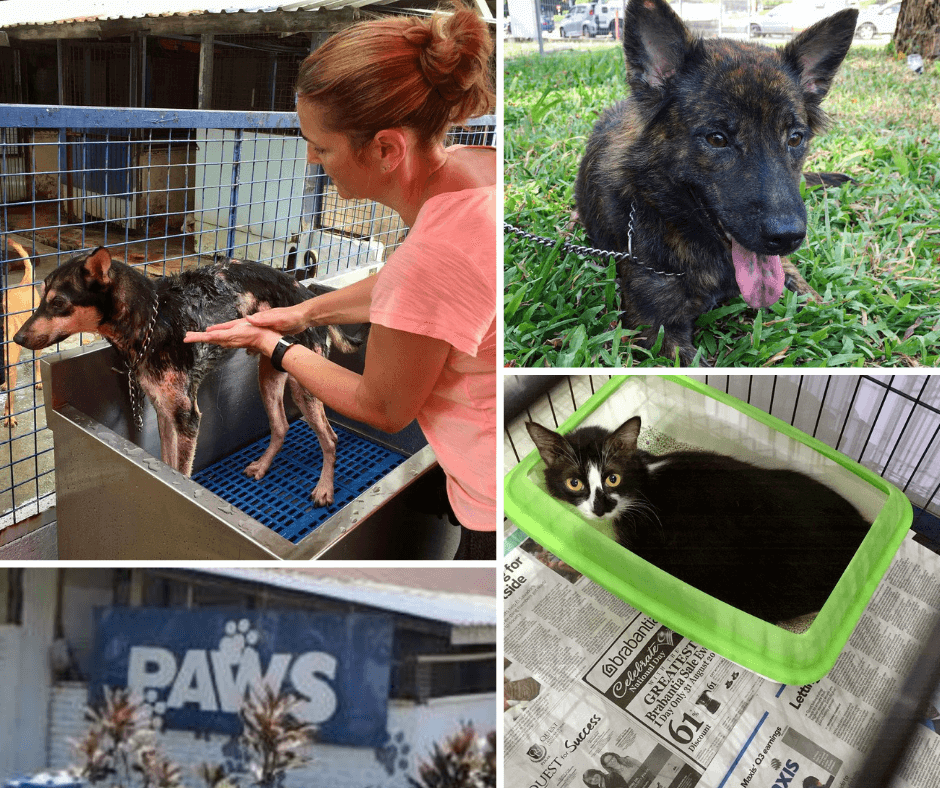 Paws Animal Welfare Society is one of the non-profit animal shelters in Petaling Jaya. Moreover, it's one of the largest shelters in Malaysia, housing over 500 animals in total.
The shelter's main objective is to find new families for unwanted, abandoned and injured cats and dogs, which have been surrendered to the shelter. At the moment, the shelter is working at maximum capacity. This means that one adoption equals one less dog put to sleep.
Their team consists of three office staff, a number of part-time veterinarians, one vet assistant and seven kennel workers.
For more information check out their Facebook or Instagram.
Tel: 03-7846-1087
6. SPCA Selangor
SPCA Selangor is one of the oldest animal shelters and awelfare organizations in Malaysia. Founded in 1958, they have a long history of animal protection, education and caretaking. Their advanced adoption program ensures that all animals up for adoption are properly vaccinated, rehabilitated and socialized. Thus, you know your new companion is healthy and ready to join your family.
Moreover, SPCA Selangor offers a Pet Care Programme. It's an opportunity to get more insight into the world of rescue centres and how SPCA Selangor deals with strays. Besides that, the Pet Care Programme also allows you to do volunteering work for SPCA Selangor.
Learn more at SPCA Selangor's Facebook or Instagram page.
Address: Jalan Kerja Ayer Lama, 68000 Ampang Jaya, Selangor
Tel: 03-42565312
7. Malaysia Independent Animal Rescue
Malaysia Independent Animal Rescue (MIAR) was founded in 2008 by Puspa Rani. A non-profit team that helps strays in need and is dedicated to saving abused animals, especially dogs. MIAR's belief is that every animal deserves "Just One Chance".
MIAR is formed by a group of rescuers dedicated to the rescue, fostering and rehabilitation of abused and abandoned dogs. The rescued dogs are up for adoption once they are medically treated, healed and rehabilitated.
Puspa Rani has to-date saved the lives and successfully rehabilitated & rehomed over 700 dogs.
You can visit their Facebook for more information!
Address: Jalan MU 1/6R, Seksyen 7, Taman Perindustrian Meranti Utama
Tel: 016-7129364/016-9975301
8. Furry Friends Farm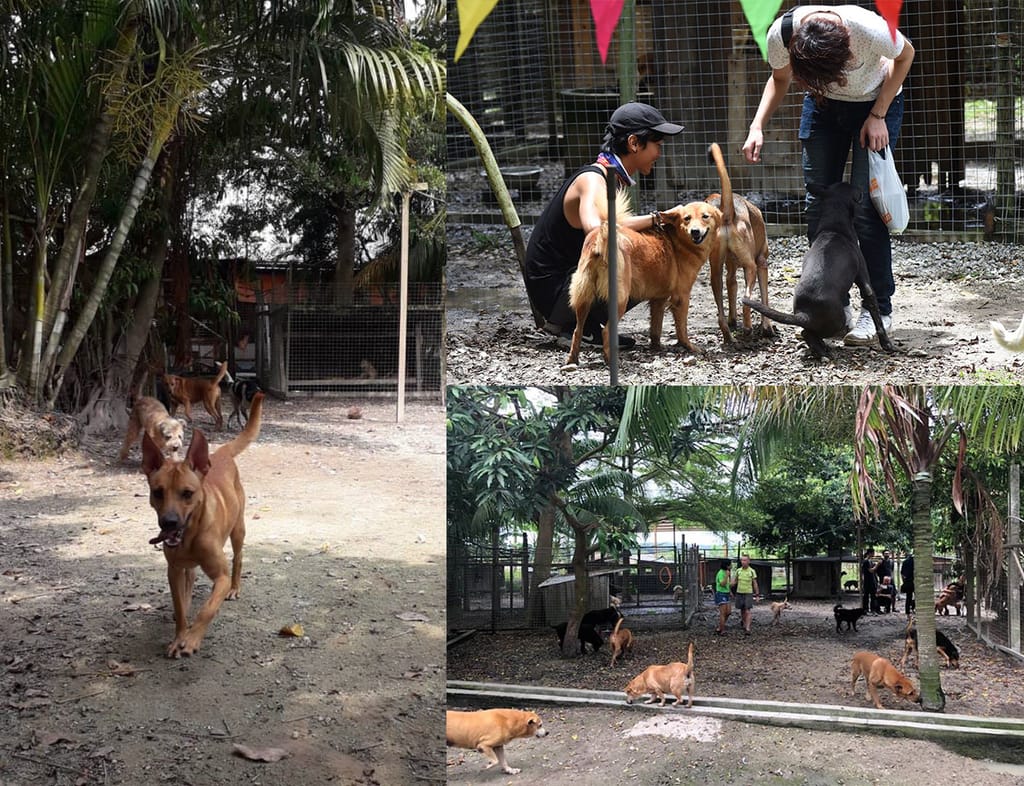 Furry Friends Farm (FFF) was formed on the 4th of October 2006. A no-kill animal sanctuary for rescued, abandoned, abused and stray dogs and cats. The 1.8 acre farm is home to 500 or more animals. Dogs, cats, goats, chickens, rabbits, ducks and geese – as for the farm animal they are rescued from the destiny from ending on a dinner plate.
FFF was previously single-handedly run by its late founder Sabrina Yeap until her untimely passing in July 2012. Since then, FFF has been registered and operating as a society.
The animal shelter is also known as Persatuan Haiwan-Haiwan Kurang Dijaga Selangor in Bahasa. Check out their Facebook or Instagram!
Address: Kundang, Selangor
Tel: 016-3717692
9. Lucky Dogs Home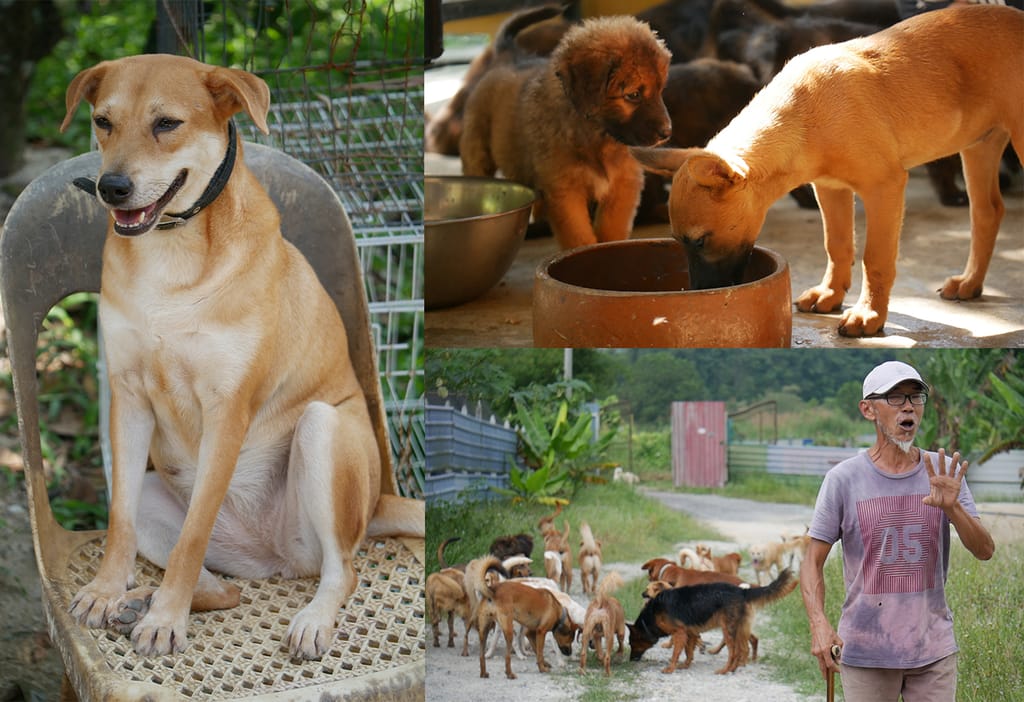 Formerly known as Uncle Win's Shelter, Uncle Win started his humble shelter 30 years ago with the little savings he had. He takes care of 92 dogs all by himself. After the sad demise of Uncle Win on 18 March 2020, Lucky Dogs Home was formed by Mr. Francis Koh and has taken over the management with the aid of an Indonesian helper.
Because Lucky Dogs Home is a non-profit charitable shelter that is supported entirely by private contributions. Things since then have not changed. They need to raise funds to help pay off the vet bills as well as donations for medicine and dog food.
If you wish to help them, be it volunteering at the shelter or contributing to donations, please contact them at the number below. You may also find them on their Facebook page here.
Watch Uncle Win's story in the past and struggles on helping dogs in need in the video below!
Address: Bukit Broga, Semenyih
Tel: 019-3023311
10. Lost Animal Souls Shelter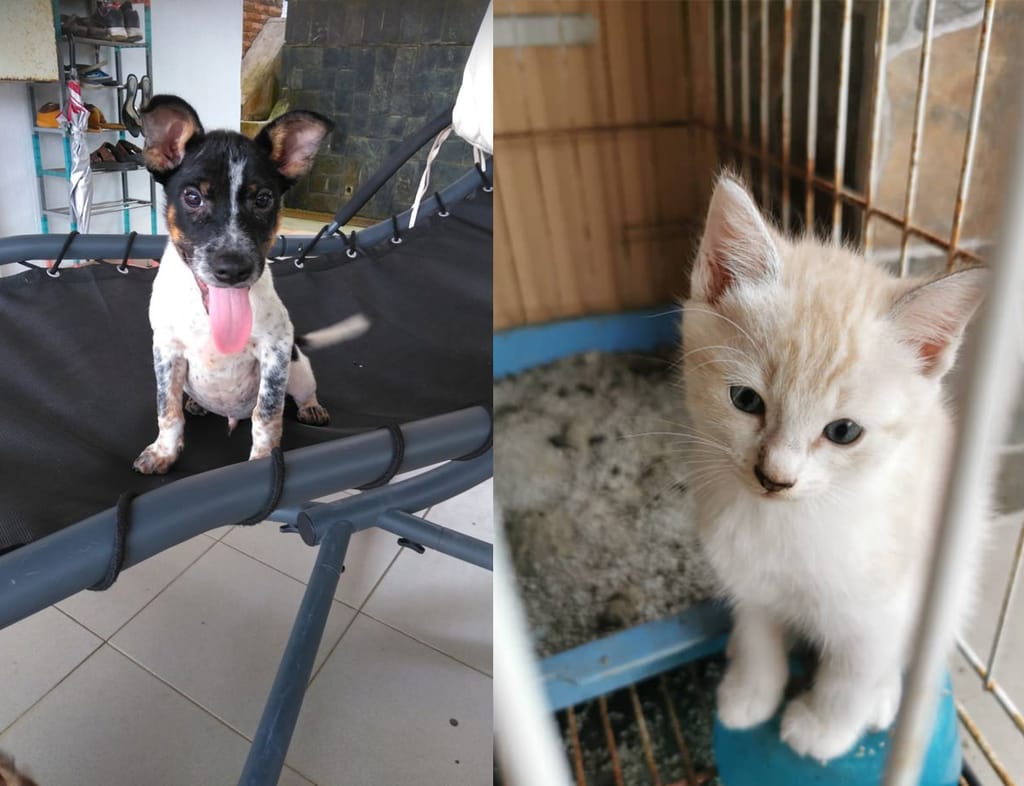 Lost Animal Souls Shelter (LASS) is a non-profit, no-kill, canine welfare organization that houses more than 250 destitute abandoned dogs. The shelter was founded by Vignes Chelliah and they are going into their 7th year of operation.
LASS is so into the belief of "A Dollar A Day Saves A Life" and would sincerely appreciate monthly contributions. A pair of extra hands to continuously bathe the dogs to keep them clean and fresh would be more welcome.
If you wish to contribute or offer volunteer help, please do not hesitate to contact them.
Check out their Facebook for more information.
Address: Bestari Jaya, Kuala Selangor
Tel: 016-3119637
We support local animal shelters
PledgeCare is run by a small team of wholehearted animal lovers who think that both pets and strays deserve better. We operate as a social enterprise and donate a part of our proceeds to local animal shelters/organizations helping animals in need. If you wish to learn more about us, feel free to visit our online pet store.
After all, we hope this article can inspire some of you to visit the 10 above-mentioned locations. Remember by adopting an animal from an animal shelter or rescue organization you save two lives – the one you're adopting and the one who takes its place.
You might like:
We aspire to help and inspire dog parents who wish a healthier every day for their dogs by designing this kind of blog post. If you're curious about our air-dried raw, Malaysian, human-grade and super healthy dog food, check out: https://pledgecare.org/recipe/
Sign up for our newsletter and get RM15 off your first order of our healthy foods and treats: