You're going out for food at the nearest restaurant. In the second you're about to close the door you spot Fido. His eyes are begging you for letting him come along. It's almost heartbreaking to leave him. But it doesn't have to be like that! Why not bring him? From pet-friendly cafes to dog parks, be prepared to mark your outings on your calendars as we've listed down the best dog-friendly places in KL & PJ for you and your pup to have a great time together!
OBS: Due to RMCO, we recommend you to reach out to the place before visiting.
Top 15 Dog-Friendly Places In KL & PJ
1. Desa ParkCity
The Waterfront at Desa ParkCity is a beautiful location. This spot is a favorite among many dog owners. The large area and all the running tracks allow mutual exercise or just a long colorful walk. This pet-friendly park is also the perfect place for your pup to socialize and make new friends while you relax.
This huge dog park has room for plenty of fun for owners. It is also surrounded by cozy cafes where you can bring your dog for a delicious snack and a quick rest.
During weekends, it's common to see events and bazaars where dog owners can shop some delicious food, treats or the latest merch for their pup. Sometimes, we also drop by selling our healthy, raw nutrition foods and treats for pets.
We have written more specifically about The Waterfront and Desa ParkCity Pet Bazaar in another blog post – you can check it out here.
Address: Desa Parkcity, 52200 Kuala Lumpur, Federal Territory of Kuala Lumpur
2. Central Park Bandar Utama
This is the only park in Klang Valley that allows dogs.
We would say that this park is considered one of the underrated dog-friendly places as compared to The Waterfront. It is located opposite the New Wing of 1 Utama Shopping Centre. However, this dog park is way less crowded than the huge shopping mall. Central Park offers long tracks surrounded by trees and a big nice lake. It's a great place for you and your pup to walk around, relax and enjoy the atmosphere.
If you go to the park on a weekend, I guarantee you that you will meet other dog owners. It's a fantastic way for you and your dog to socialize.
You can also sign your dog up for obedience training if you think he needs some manners. That's organized by Canine Sportzclub.
Address: Dataran Bandar Utama, Bandar Utama, 47800 Petaling Jaya, Selangor, Malaysia
3. Poozie n' Beach
Poozie n' Beach is another dog-friendly place that functions as a cafe/daycare/grooming service. It is located in Sunway Nexis Kota Damansara.
And don't let it fool you by the Louis Vuitton-vibes from the outside – this posh place is actually for dogs, not handbags.
Pet-owners are loving Poozie n' Beach and for a good reason. This pet cafe got it all – a lot of dogs, a nice atmosphere and a super friendly staff. Customers can bring their own food or order delivery and enjoy their meals while waiting for their furkids for grooming. And if your pup is extra well-behaved you can check out their selection of dog foods and snacks.
This pet-friendly place is definitely worth a visit if you're looking for a great time with your dog. You can check out their Facebook page and Instagram for more information.
Address: C-GF-06 Sunway Nexis Kota Damansara Jalan PJU 5/1, Petaling Jaya, Malaysia.
Operating Times: 10:30AM – 7PM (Closed on WEDNESDAY)
Contact no: 03-74979497 | 0102999745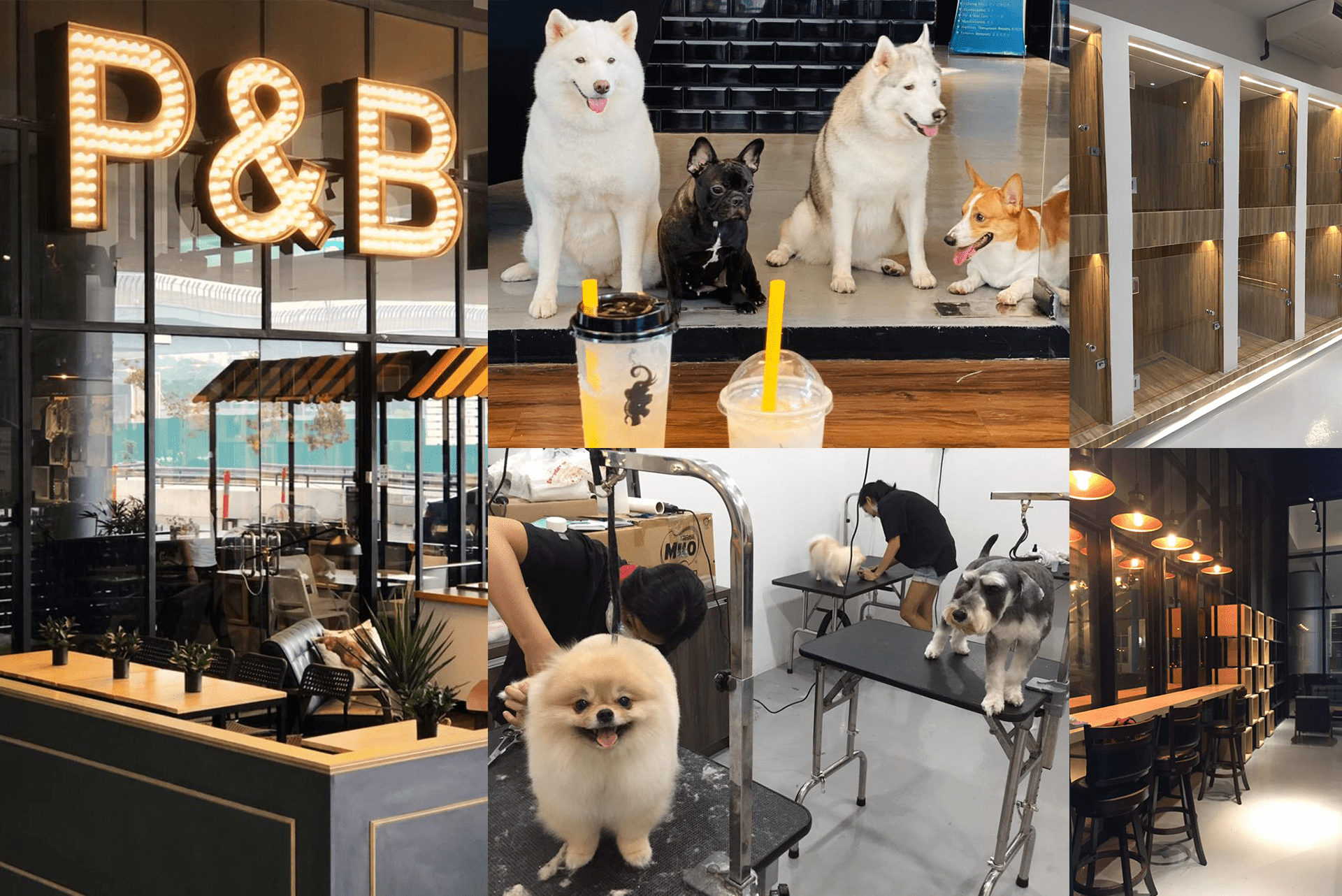 4. THE SQUARE, Jaya One
The Square re-opened in 2019 — a cohesive offering of co-working space called CommonGround.work. Several pet-friendly restaurants like Tommy Thong Chai, Smores and etc. Plus, pet events, performing art space and office suites.
If you are looking to train your pup, Jom Paw is highly recommended. They are located at Jaya One and they have training session typically on Sundays. Do visit their website for more information.
Head over to Jaya One's website to learn more about them.
Address: 72A Jalan Universiti, 46200 Petaling Jaya.
Operating Times: 10AM – 11PM
Contact no: 03-7491 9211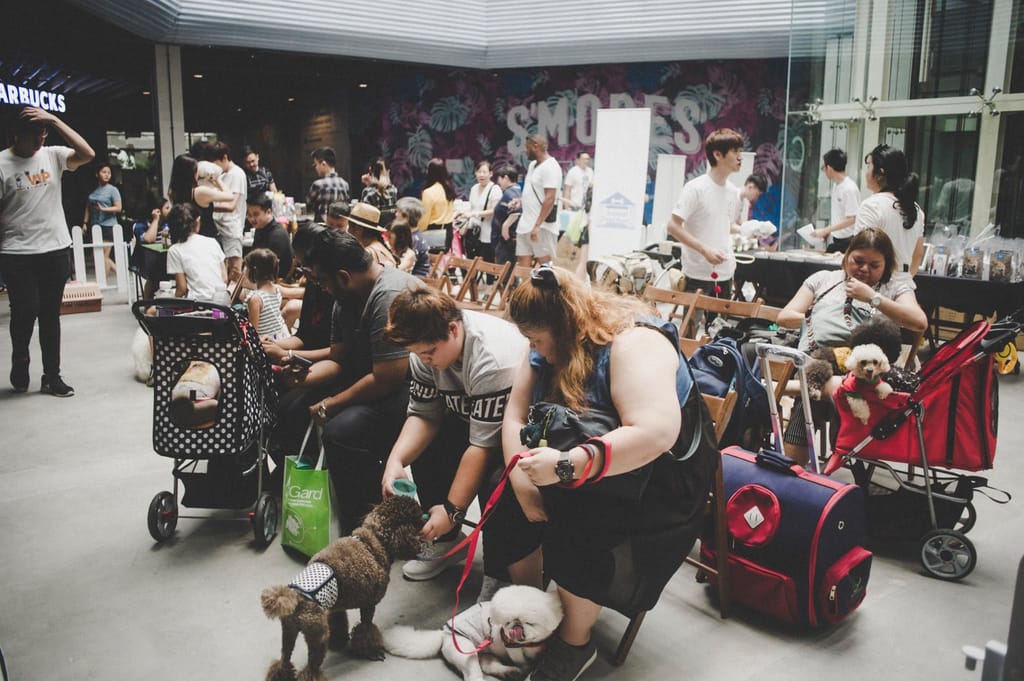 5. Wuff & Wok Bistro
Looking for a delicious place to eat with your dog? Then you should give the pet-friendly restaurant, Wuff & Wok Bistro, a try. They have a variety of food cuisines ranging from Chinese, Western, Japanese and more, you name it!
Another bonus is the staff – they are really friendly and make you and your pet feel comfortable.
Wuff & Wok Bistro owns 5 house dogs, Princess (Pomeranian), Polo (Alaskan Malamute), Enzo, Pica and Hugo (Huskies). They are very friendly but can be a bit intimating to smaller dogs. Alternatively, they have other sitting areas if you are more comfortable. The schedule for the dogs usually come in around 7.30pm.
If you want to learn more about Wuff & Wok Bistro give their Facebook page a visit.
Address: No 65G, Jalan SS15/5A,Subang Jaya
Operating Times: 10AM-10PM (Closed on MONDAYS)
Contact no: 03-5886 5002 | 017 778 9984
6. Essense Cafe by Pets4u
Essense Cafe is a cosy place tucked away in Puchong with amazing coffee as well as non-coffee beverages by friendly baristas and a good array of desserts.
They don't house any pets, but you are highly encouraged to bring your furkids to visit, provided you obey a few house rules. Occasionally, the cafe also hosts educational pet-related events or workshops of different topics.
You can keep up with their news here on Facebook for their future events.
Address: 48-1, Jalan Puteri 5/1, Bandar Puteri, 47100 Puchong, Selangor
Operating Times: 12PM-8PM (Closed on WEDNESDAY)
Contact no: 03-8051 3283
7. CuBs & CuPs
It's definitely a pleasure to be in CuBs & CuPs. The dog cafe offers an extensive and recently updated food menu – as well as snacks and meat meals for your canine companions. Their fine ingredients and friendly service definitely attract a crowd and is pretty popular, especially on the weekends.
You will also be greeted by their in-house dogs: Nacho, Mango, Taco, Cola; who can keep your furkids occupied while you have lunch.
Do check out their Facebook and Instagram page for more information.
Address: 22, Jalan 30/70a, Desa Sri Hartamas, 50480 Kuala Lumpur
Operating Times: WEEKDAYS: 11.30AM-9.30PM | WEEKENDS: 9.30AM – 10.30PM (Closed on WEDNESDAY)
Contact no: +6017242495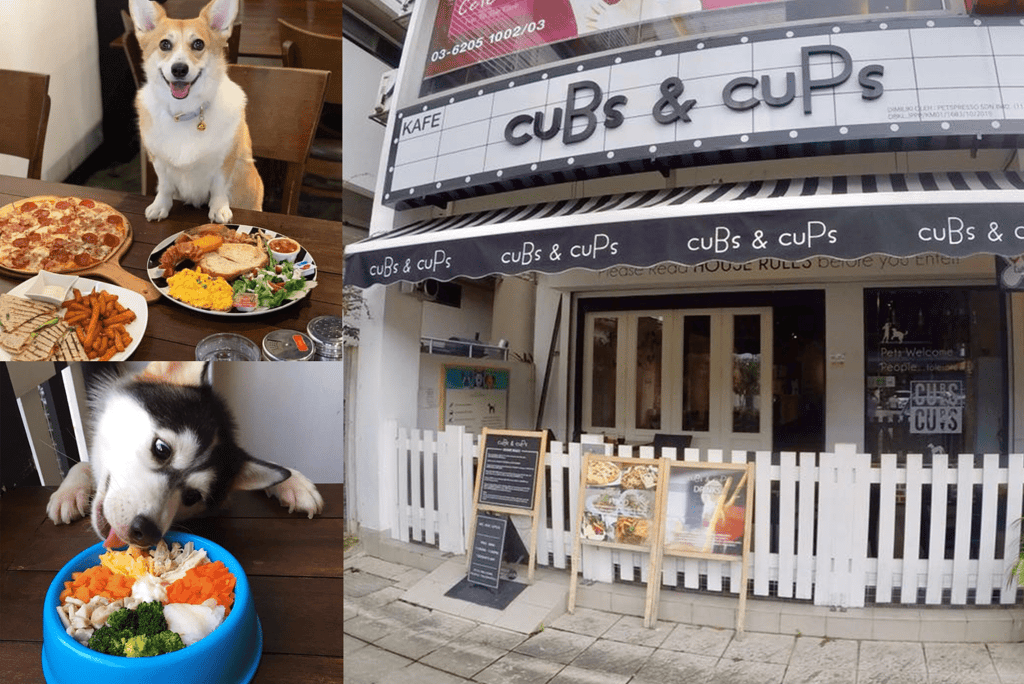 8. Bark-A-Bout
Bark-A-Bout is the place to go if you want to have a fun and exciting time with your dog.
They have a big swimming pool for your pooches to chill during a hot day. They do provide life jackets if your dog is swimming for the first time. Plus, they have grooming services after the swim!
Check out the Facebook page for more information.
Address: Jalan SS2/66, Petaling Jaya, Selangor
Operating Times: 10AM-8PM
Contact no: 016-7123808
9. Pets Repawblic
Pets Repawblic is definitely one of the newest places in town you can take your furkids to play! Freshly opened just last month, they serve as a playroom, daycare, boarding house and groomers for your pup.
You will find your furkids getting lost in a ball pit, yes you read that right, a ball pit for your furkids. For dog-owners who live in apartments, this place has plenty of room for your pooch to run and jump around – and for cat-owners; Your cat will love the scratch post castles here.
Address: D-G-6, Block D, Jalan PJU 1A/3K Taipan 1, Ara Damansara, 47301 Petaling Jaya
Contact no: 017-8990159
10. Petztopia Cafe
Petztopia Cafe is a pet-friendly cafe located in The Strand, Kota Damansara. The cafe offers a wide selection of food on their Western, and recently added, Thai menu, as well as coffee and non-coffee beverages.
When entering the cafe the staff will greet you together with a couple of in-house dogs and a hedgehog. Typically, customers also bring their own dogs so it's the perfect spot for your pooch to socialize.
They also provide excellent packages for grooming and boarding services. You can learn more on their Facebook page.
Address: No.42A-1 & 46-1, Jalan PJU 5/20D The Strand, Kota Damansara, 47810 PJ
Operating Times: Tues-Fri : 11AM – 8PM l Sat & Sun – 11AM – 9PM (Closed on MONDAY)
Contact no: 016-2849816
11. Clawset Cafe
Clawset Cafe is known to be one of the popular dog-friendly places in PJ. It is located in Damansara Utama and newly renovated as of 8th August 2019.
Both dogs and cats are allowed in the cafe. However, you'll need to follow a few simple rules; no pets on the table & no flash photography. Moreover, pets can't be fed with human food – but don't worry, Clawset Cafe has a pet-friendly menu as well.
During your visit to the cafe, you'll be entertained by their well-mannered in-house pets which you can cuddle and pamper. So if you're a pet-lover that aren't able to own any pets this is a great opportunity for you.
The owner of the cafe also has a pet salon next door that offers grooming service.
For more information do check their Facebook or Instagram page.
Address: No. 38, 1, Jalan SS 22/25, Damansara Jaya, 47400 Petaling Jaya, Selangor
Operating Times: 10AM – 10PM
Contact no: 017-470 0618
12. Maya Park
Maya Park is located in Eco Ardence, Setia Alam.
It has pet-friendly restaurants around the area. It lights up beautifully at night so it's a great place to visit if you want a nice evening out strolling in the park. Not to forget it's gorgeous lake in the middle of the landscape that would look good for Instagram.
If you are ever looking to have a boarding place for your pets around the area, Cocomomo is located there. They have a stunning storey building that is tastefully designed with special rooms and suites for your pets set with modern installations, a large indoor park, interaction play room and a rooftop pool area.
Address: 40170, Persiaran Setia Alam, Setia Alam, 40170 Shah Alam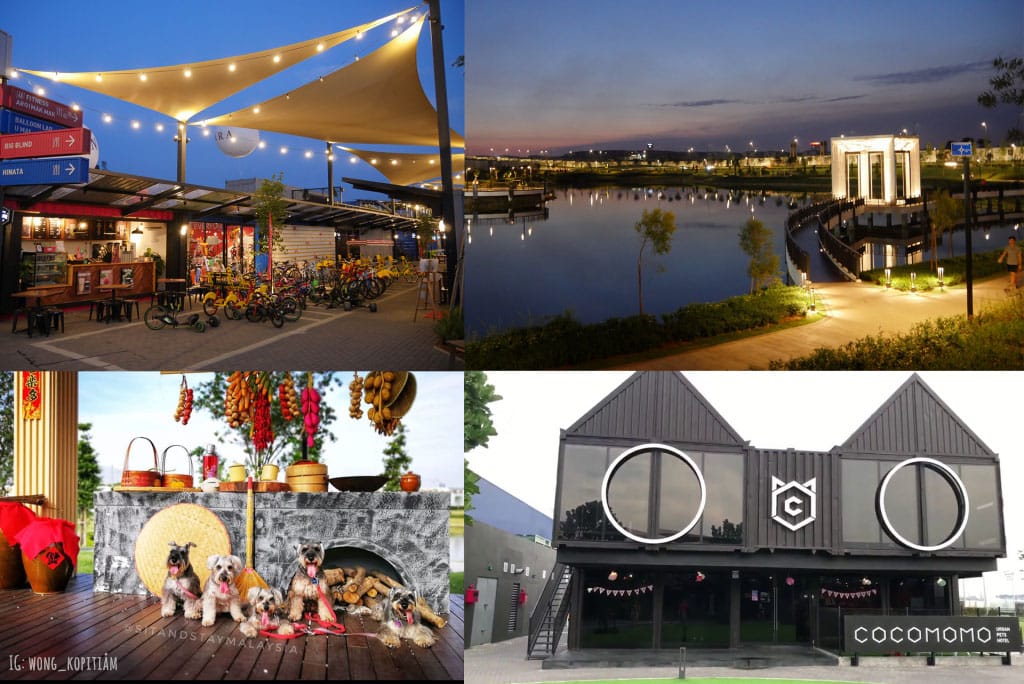 13. White & Brown Cafe
White & Brown Cafe is a newly opened dog-friendly cafe located in SS15.
Although their food menu is quite limited, it's is the opposite for the drinks menu. Their drinks are just as pretty as the interior of the cafe. There is a student discount for those who come in with a school uniform or show them a student ID.
They have an instagrammable corner which is their ball pit along side a hanging roof swing and the cafe's neon sign. Definitely do not miss out on that! And not forgetting that they have a in-house dog called Queena (standard poodle) you should meet.
They also provide excellent packages for grooming.
Address: 6 , Jalan SS15/8 , 47500 , Subang Jaya , SelangorSubang Jaya
Operating Times: 12PM – 10PM (Closed on WEDNESDAY)
Contact no: 010-369 2554
14. IGO Pet Cafe
Based in Setapak, IGO Pet Cafe is a good place for you and your furkids to spend the day.
If you don't own a dog but have always wanted one, this is the right place to be at. And if you do, you are welcomed to bring your pup here to play with the in-house dogs of many different breeds (read: Golden Retriever, Shiba Inu, Corgi, Chow Chow and more).
IGO Pet Cafe also offers grooming, daycare and boarding services. You can look them up on their Facebook page here.
Address: No 1-7,PV 128, Jalan Genting Klang, Setapak, 53300 Kuala Lumpur.
Operating Times: Tues 3-11PM | Fri & Sat 12PM-12AM | Wed, Thurs & Sun 12-11PM (Closed on MON)
Contact no: 010-369 2554
15. Big Canvas Cafe
Big Canvas Cafe is located in Cheras. It may be a bit far out from your usual spot but it's good for people who live in Cheras and is looking for a place to go with your pets.
It's really worth the trip to Big Canvas Cafe as they have amazing arts & crafts workshops for all ages while letting your dog hangout with you freely in the cafe. Plus, there is a beautiful interior for your Instagram needs, as they have a spiral staircase surrounded with plants and a beautiful hand painted mural.
Address: No. 34, Jalan Mutiara Raya, Taman MutiaraKuala Lumpur, Malaysia
Operating Times: 11AM to 9PM (Mon,Thu) 11AM to 6PM (Tue) 11AM to 10PM (Fri-Sun) (Closed on WEDNESDAY)
Contact no: 03-9133 8639
Plenty of other dog-friendly places near you
Would you like to make new memories, visit interesting places, try delicious food and bring your furbaby, all the same time? Then these dog-friendly places is for you!
So now there are no excuses for not bringing Fido next time you're going out.
If you're living in Penang or planning to go there with your dog, we've also made an article, "The 7 Best Dog-Friendly Places In Penang".
You may like:
PledgeCare's blog posts are designed to help and inspire dog parents who wish a healthier every day for their dogs. If you're curious about our air-dried raw, Malaysian, human-grade and super healthy dog food, check out: https://pledgecare.org/recipe/
Sign up for our newsletter and get RM15 off your first order of our healthy foods and treats: