We understand that pet-friendly hotels in Malaysia can be difficult to find. But good news – we've saved you the trouble by gathering a list including resorts and Airbnb stays. So why not take that break and treat your pet and yourself with a good road trip!
Before we move on,
It's important to note that there are rules and regulations that must be strictly followed when bringing your pet. Always remember that common sense and consideration to other guests go a long way.
Pets are to be well behaved and even better if trained. Moreover, ensure that your pet is well-groomed, vaccinated, and free from ticks/fleas. By doing this, you're helping the hosts to continue their pet-friendly services – so keep this in mind.
Now with that being said, here are some of the states in Malaysia with pet-friendly hotels that we will be covering:
Negeri Sembilan
Melaka
Penang
Kuala Lumpur
Pahang
Perak
Langkawi
Johor
Negeri Sembilan
The Dusun
Located in the foothills of Titiwangsa Main Range, The Dusun is a paradise for all – especially for those seeking a short escape from the hustle and bustle of the city. Helen and David are the ones behind this small, socially-conscious eco-resort.
The married duo bought the land in 1984. It started off as being a simple retreat from the city for their family, however, in 2009 they decided to turn it into a nature resort with the idea of sharing their love for the place to the public. The Dusun was designed based on the family's lifestyle and ideals, so it's more than just a resort.
3 out of the 6 meticulously built houses are pet friendly. They are known as Emas, Berembun, and Tembusu. The design of the house gets its inspiration from the Malay culture and each has its own concept. It can't get any more local than that.
Additionally, the houses come with their own dog gates and have comfortable outdoor spaces for your fur kids! For more information, head to this page to learn more about their pet policy.
The house also has a kitchen and outdoor barbecue facility which they will light for guests in the evening. As long as you bring your own ingredients, you'll be able to make home-cooked food for your pets.
The Dusun provides a relaxing off-the-grid experience with breathtaking views of nature and loads of privacy. It's perfect for families or couples with pets looking to spend quality time in nature. Do keep a lookout on their social media and website as they'll have special discounts from time to time.
Also, remember to bring some snacks for your furkid! You can visit our online store to browse our healthy pet foods and treats.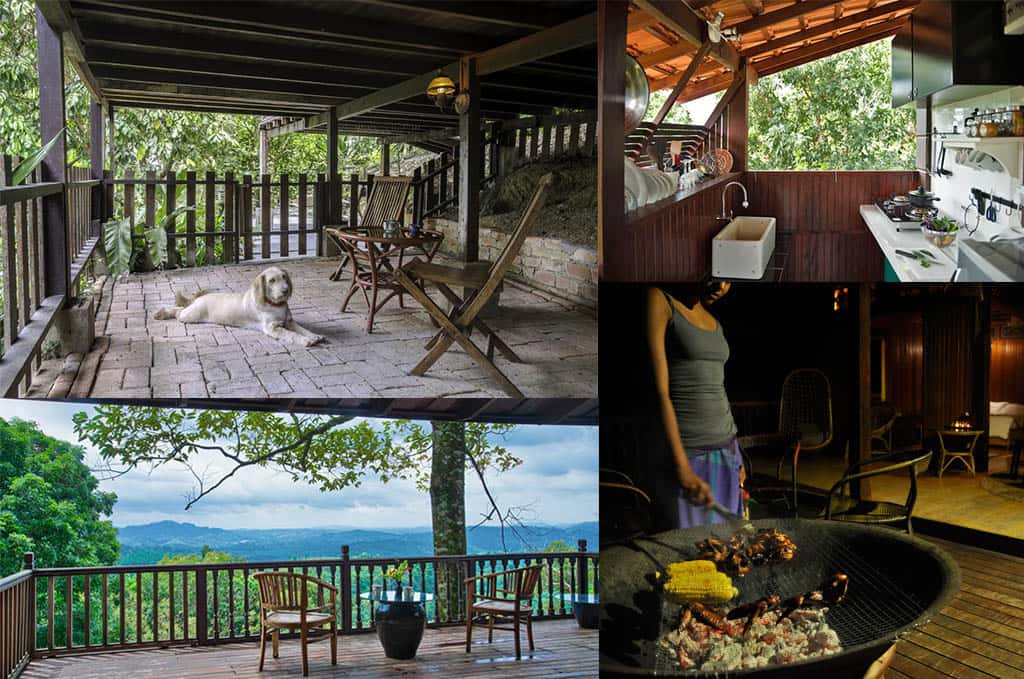 Website: http://thedusun.com.my/
Facebook: The Dusun
Instagram: thedusun
Amazing feel in Plassid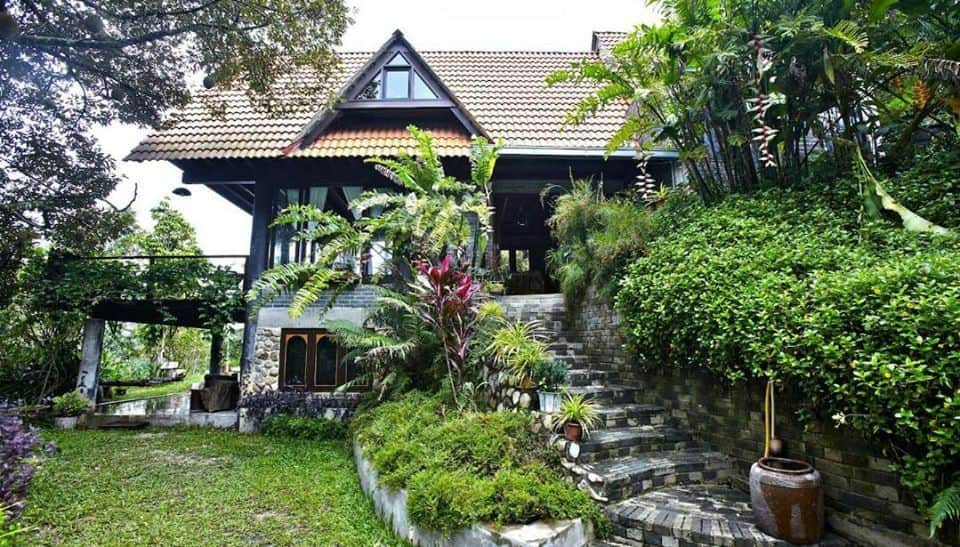 Set amidst lush tropical greenery, you can find a gorgeous private villa known as Amazing feel in Plassid. Patrick is the host for this lovely home on Airbnb. Everything about this place feels as if it came from a fairy tale, starting from the welcoming entrance, the cosy-looking mansion and its stylish wooden interior.
Moreover, pet parents who choose to stay here will be treated to the scenery of mountains and gardens filled with an array of flowers. Your fur kids will have a delightful time exploring around while enjoying the crisp fresh air.
It doesn't stop there, Patrick also offers barbeque facilities, a jacuzzi pool and activities such as jungle trekking. The villa is also fully equipped with kitchen utensils so that his guests can prepare their own meals. Based on the review, Many of his visitors are very satisfied with the cleanliness and maintenance of the house. You'll feel revitalized at the end of the stay that's for sure.
Again, if you're bringing pets, it's always good to contact the host prior to making reservations.
AirBnB: Amazing feel in Plassid
Facebook: Amazing feel in Plassid
Contact: 019-720 5488 (Apple)
Melaka
Ohana House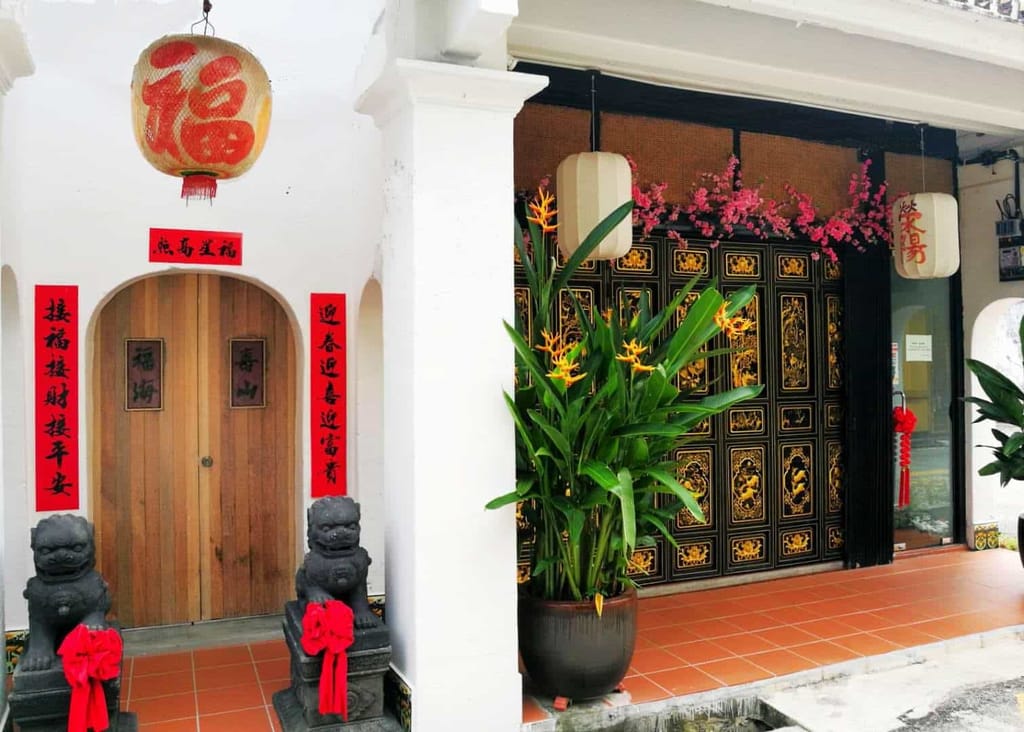 Situated about 2 hours from KL by car, this pet-friendly homestay in Melaka is a good option to consider. Make sure to contact Ohana House beforehand and they'll gladly make the arrangements accordingly. Ohana House has a nice local touch to it. Decorated extensively in a Baba Nyonya style, it wouldn't be a challenge to spot this place.
Another plus point of Ohana House is that their rooms are comfortable and quiet at night. You and your pet will be able to rest safely and soundly after an exciting trip around town.
Since it is located in the heart of Jonker Street, the place offers many nearby attraction spots as well. Bring your pet for the extra company and have a good stroll during the daytime. When the sun sets, take a break by the famous Melaka river that is around the area.
Website: https://ohanahousemelaka.wixsite.com/home
Facebook: Ohana House
Lorong One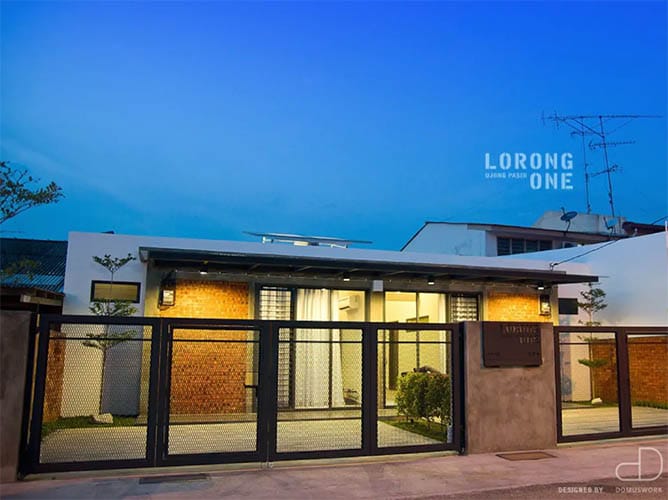 Fancy for something more modern, private and chic? If that's the case, then Lorong One will be the one for you and your pet. Justin, the host, has gained quite some numbers of reviews for this place, so we'll let the photos do the talking.
The modern industrial-inspired designed house is located in the quiet neighborhood of Ujong Pasir, Melaka. With an indoor garden, it's a cozy place to consider as guests and pets can have a great time together.
Attraction places in Melaka such as Jonker Walk, A'Famosa and Klebang Beach are just a short distance away from this alluring place.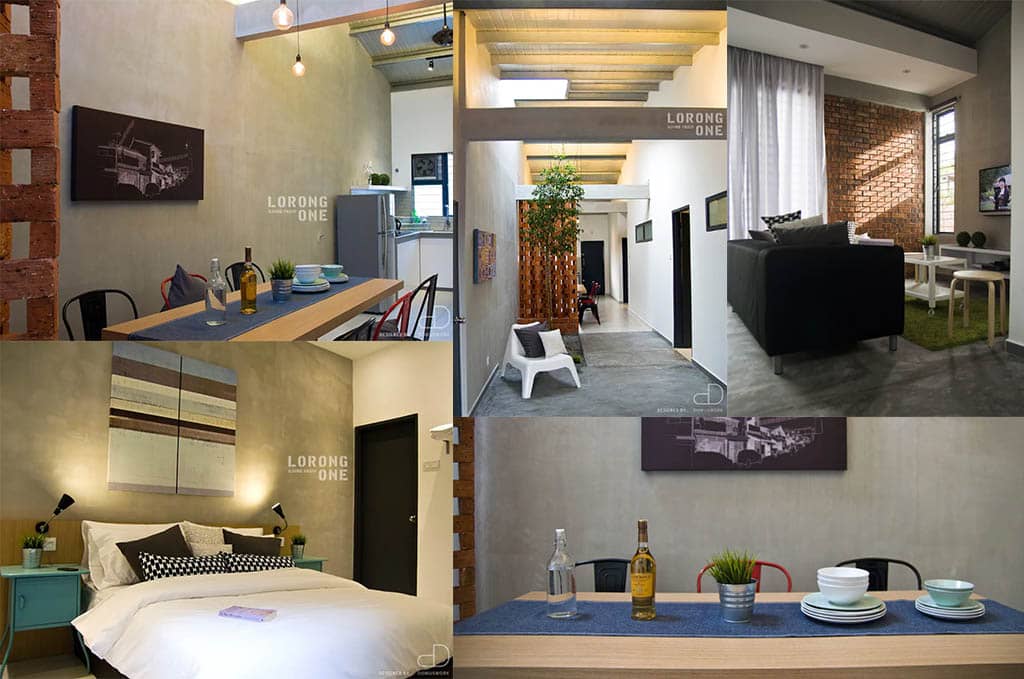 Regarding pets, here are some pointers from Justin that you'll have to take note of:
Pets are to be well-groomed and toilet trained.
Pets are strictly prohibited from going up the bed.
Maximum of 2 pets – preferably small to medium-sized pets.
Though it is pet friendly, we believe it's the responsibility of both the host and pet parents to ensure the property and their pets are being well taken care of. He highly emphasizes cleanliness and does what hotels do to maintain the overall condition of the place for the comfort of his guests.
For more information, feel free to contact him through his AirBnB profile.
AirBnB: Lorong One
Penang
Noordin Mews
PENANG – A true food paradise and home to many dog-friendly cafes! Centrally located in Noordin Street, Noordin Mews is a walking distance to many local delights. They are also proud to be one of the pet-friendly hotels in Penang that welcomes furry friends of all sizes, weight and breeds.
Although your pet will not be able to join you for a dip in the pool, you can join your furry friend to soak in the lovely sunshine by the pool in the hotel. Noordin Mews is very welcoming to all pet parents and their pets, and are more than happy to make recommendations for pet-friendly activities in Georgetown. Noordin Mews offers different activities for all guests as well, including trishaw tours, Balik Pulau tours, Nyonya cooking classes, food tours and more.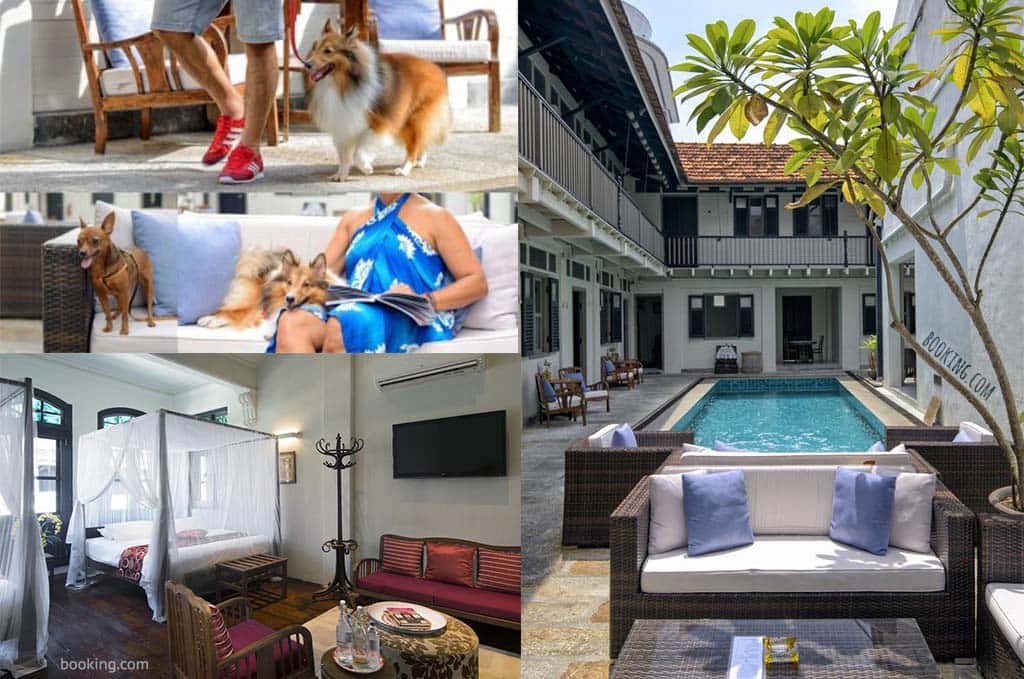 Website: https://www.noordinmews.com/
Facebook: NoordinMews

Boutique Homestay in Georgetown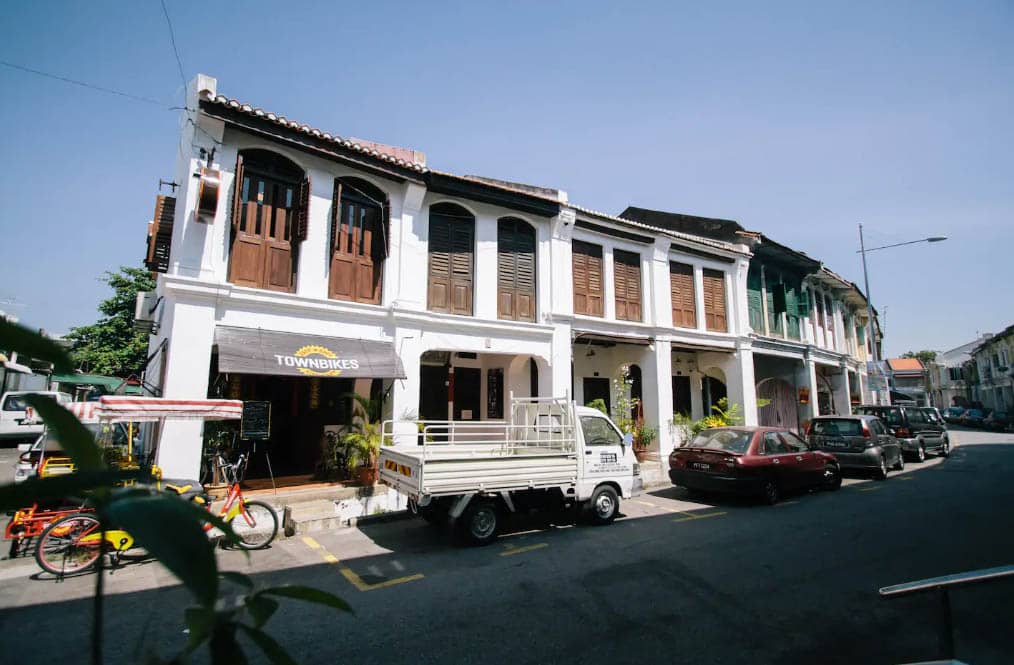 Placed right in the middle of the UNESCO heritage zone, the host Calviinh has restored a 2-story heritage house in Georgetown. It is stylish, homey and relaxing which is ideal for homestays or business trips. He's able to host a total of 6 guests and your little furry friend.
The homestay is fully furnished and is equipped with essential items. The best part is that all the tourist spots, famous Penang food, pubs and clubs are closeby.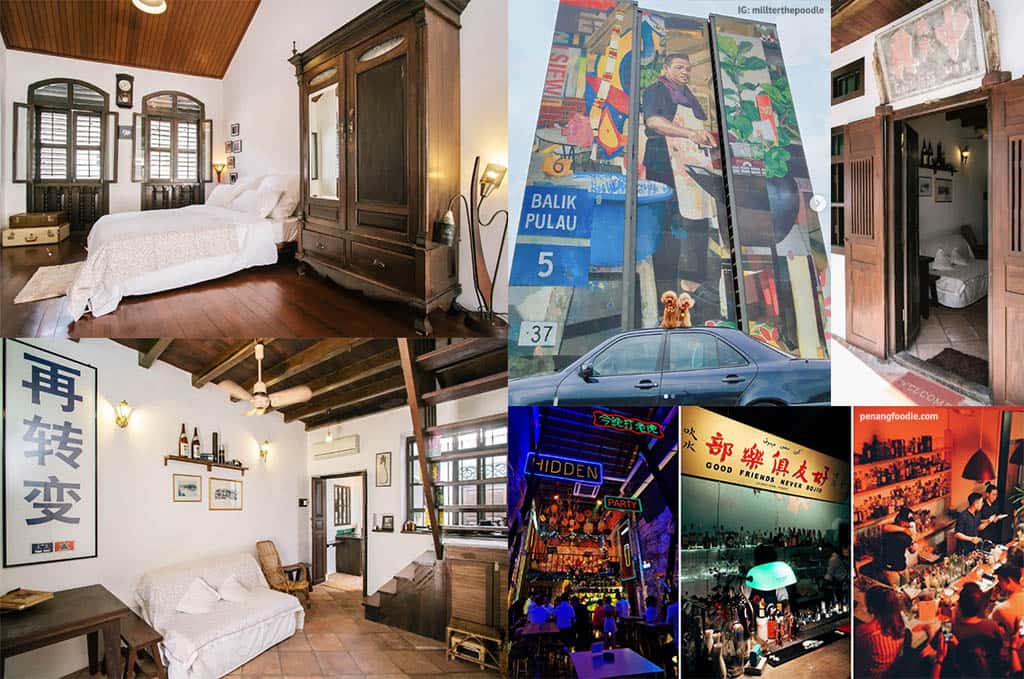 But because of its location, you can expect it to be a little hectic, especially at night. So you may want to consider if your pet will be bothered by it. Other than that, his guests only have good things to say.
AirBnB: Boutique Homestay in Georgetown, Penang
Kuala Lumpur
Your Secret Tropical Hideaway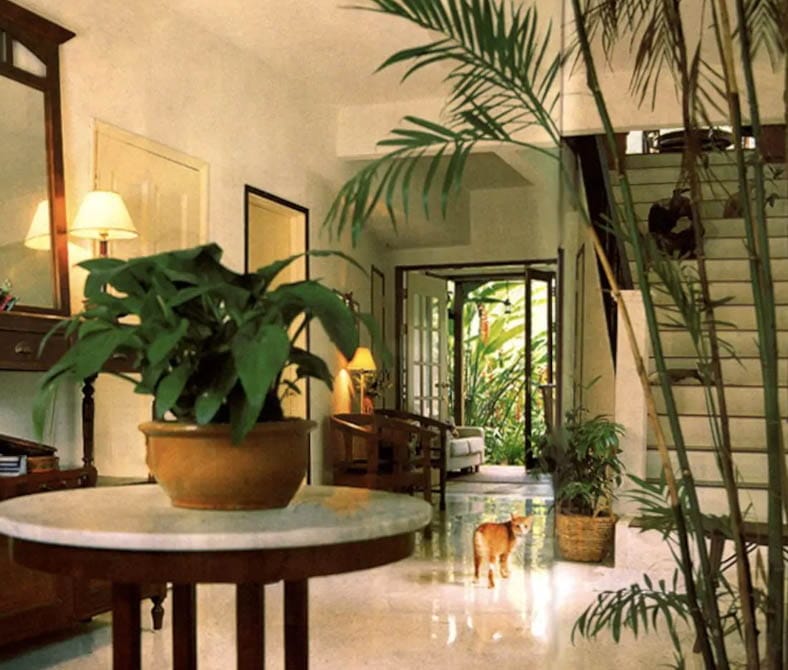 As the name suggests, U-Chen's house is a hidden gem that is only a 12 minutes car ride from the city centre, like a hidden treasure tucked out of sight for a good reason.
My stay at U-Chen's was really good. It felt like living in a resort. I was bawled over by the host. It was the most peaceful, calming n comfortable place I've ever been. My dogs and I thoroughly enjoyed it.

A reviewer on his site
A number of pet parents here have given him a big thumbs up. Try out his homemade nasi lemak as many of the reviewers claims that he is an extraordinary chef. He prepares gourmet-standard meals from his home kitchen upon request. There's also a pool that you can dip into while basking in the glorious sunlight. It is simply a luxurious experience.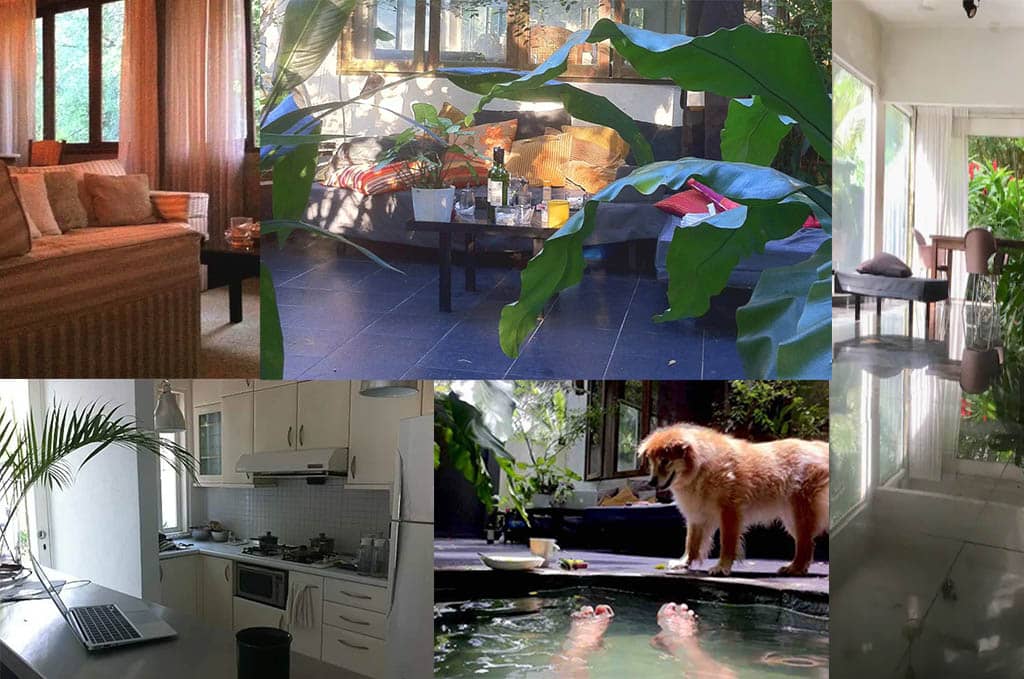 The serene atmosphere and natural surroundings are something that you and your pet will surely enjoy. Prepare to leave with only fond memories of his tropical hideout.
AirBnB: Your Secret Tropical Hideaway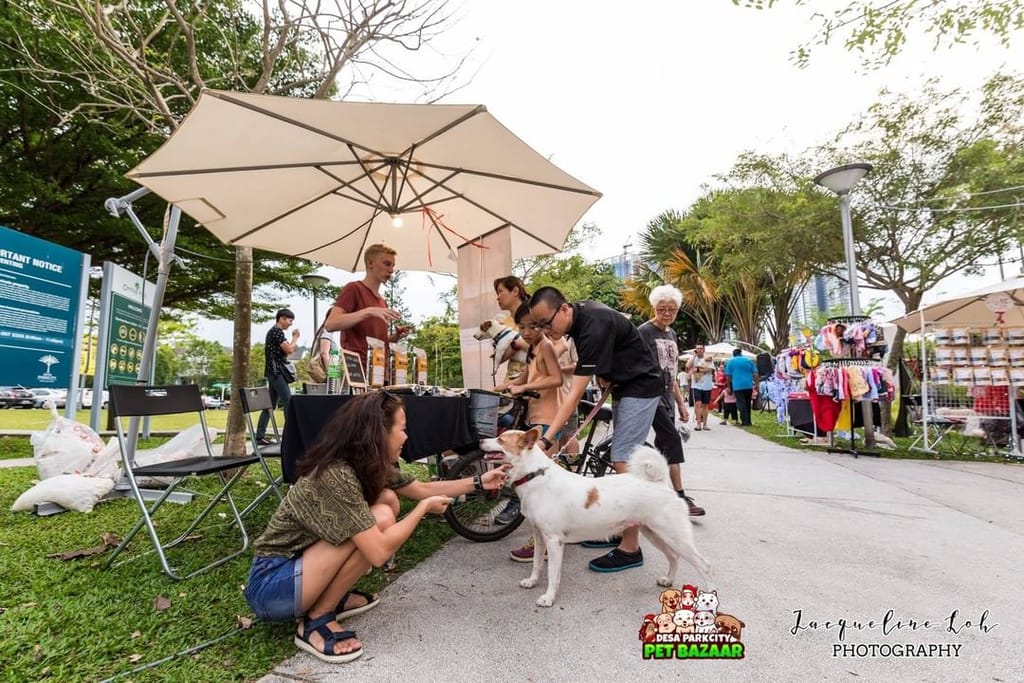 Another good alternative would be Lulu Hotel 2 Desaparkcity. What's special about this place is that there's a popular pet-friendly park known as Central Park nearby. So feel free to bring your dog for a walk. Since you're in the city, why not give these pet-friendly places a visit as well?
There are a few pet-friendly hotels in Malaysia especially KL but note that they may charge you fees for it which can cost up to RM1000. You can find a few of them through sites like booking.com or TripAdvisor.
Pahang
Ruby's Resort
On the eastern side of peninsular Malaysia, Ruby's Resort is no stranger to pet parents as this place has already been around for 14 years! To date, The owner herself also houses about 70 homeless cats and 7 rescue dogs.
The resort has undergone a tremendous amount of renovation and upgrades making it one of the highly recommended resorts in Cherating.
Ruby offers a variety of rooms and all are designed based on traditional Malay houses, she also has an in-house cafe where you can have delicious locally made food. Furthermore, they do organize some local tours and are more than happy to make recommendations for you.
The highlight though is the huge field and beach where your pet can roam to their heart's content. Just be sure to monitor and clean up after them.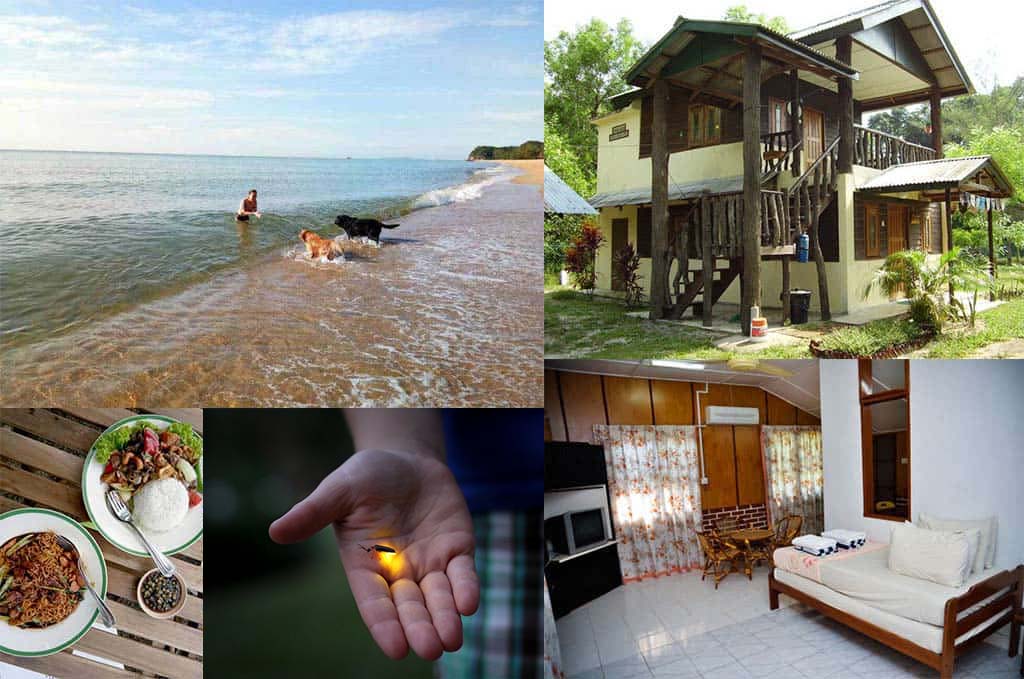 Over the years, Ruby has enforced the pet guidelines for the sake of her guests and resort management. Bring your pet's medical card with you if you're planning on taking them. It's also crucial that they are vaccinated and ticks/fleas free.
Furthermore, it would be preferable for pets to be neutered or at least get them to wear pampers since there will be other dogs and cats around. For better clarity, you can find Ruby's number on her website and inquire more about it.
Or, you can download the full rules and regulations document here.
Website: https://rubysresort.com/
Facebook: Ruby's resort
Perak
Zhi Xin Homestay, Ipoh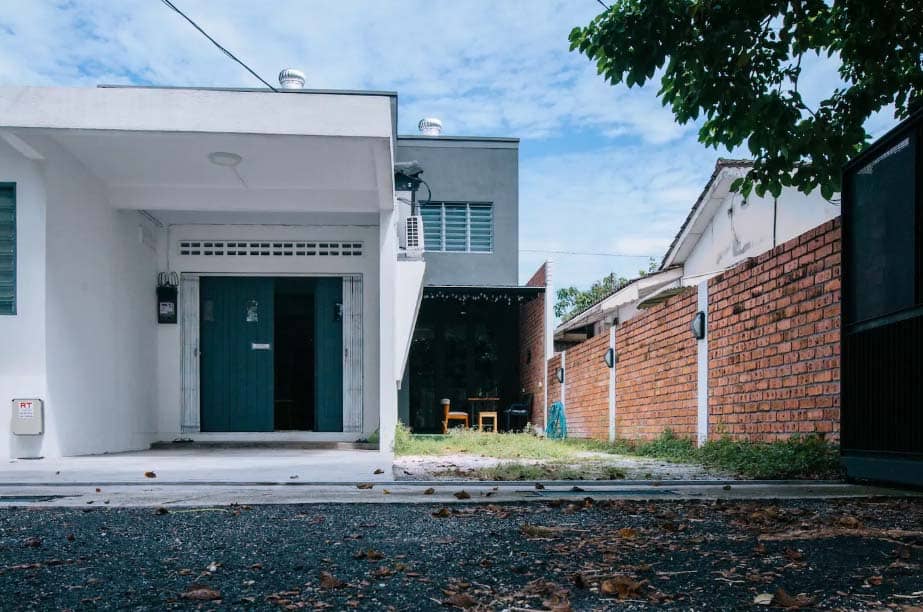 Ipoh houses one of the best chicken rice and white coffee that you can find in Malaysia. Not only known for it is local cuisine but also its limestone hills and British colonial-era architecture.
If you make a trip over here, give Zhi Sin Homestay a try as it is situated in the heart of Ipoh. His place is easily accessible to most attraction places and famous local delicacies.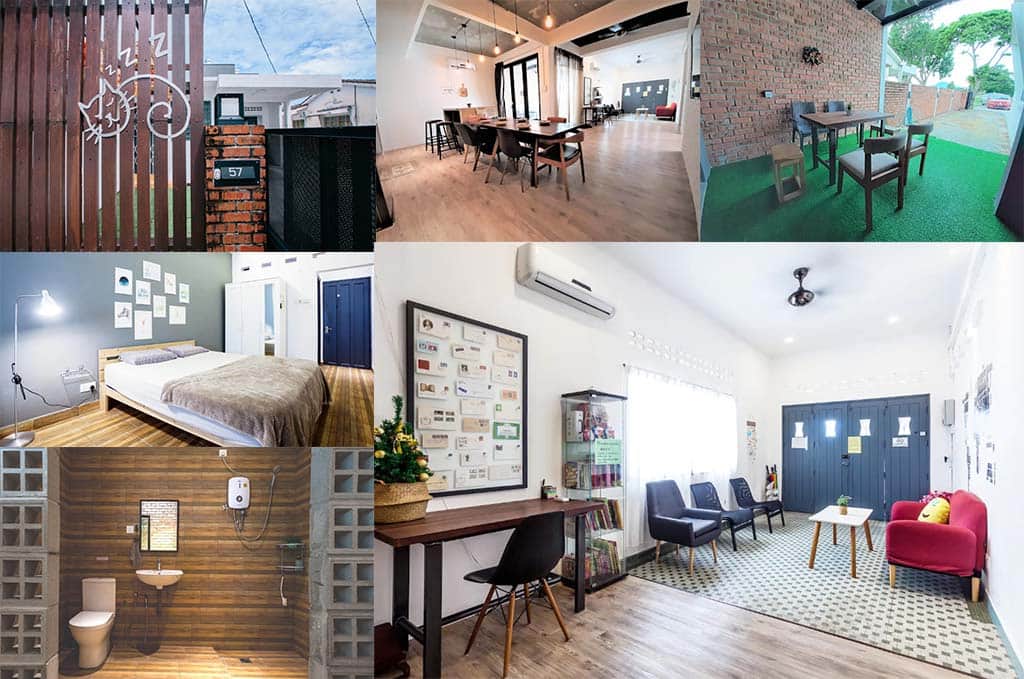 The clean, spacious and brightly-lit house is perfect for big groups as it can host up to 16 or more guests at once. As you can see from the photos, there is definitely a lot of room for your fur kids to explore around as well.
AirBnB: Zhi Xin Homestay
Johor
Sea Gypsy Village
If you are down for a holiday by the beach, check out Sibu Island in Johor. It's a paradise there and it's a great opportunity to bring your dog to play at the Sea Gypsy Village. Sibu Island is about 20 minutes from Tanjong Leman jetty in Johor, which is approximately a 5-hour drive from Kuala Lumpur. Take note that all chalets, yes you read that right, ALL chalets at Sea Gypsy Village are located not more than 20 seconds away from the beach.
If you can't paint the picture for this holiday already, let us do that for you. Waking up to the sound of crashing waves, walking to the door and getting greeted by a beautiful view of the clear blue waters behind the tall coconut trees. And on top of that, having your furry friend by your side. Also, good news to all divers too, Sea Gypsy Village features a dive base!
Be reminded that there are certain house rules to follow when you bring your furry friend to Sea Gypsy Village. you can check that out here.
Website: https://www.siburesort.com/
Facebook: SeaGypsyVillage
Instagram: seagypsyvillage
Langkawi
Bon Ton Resort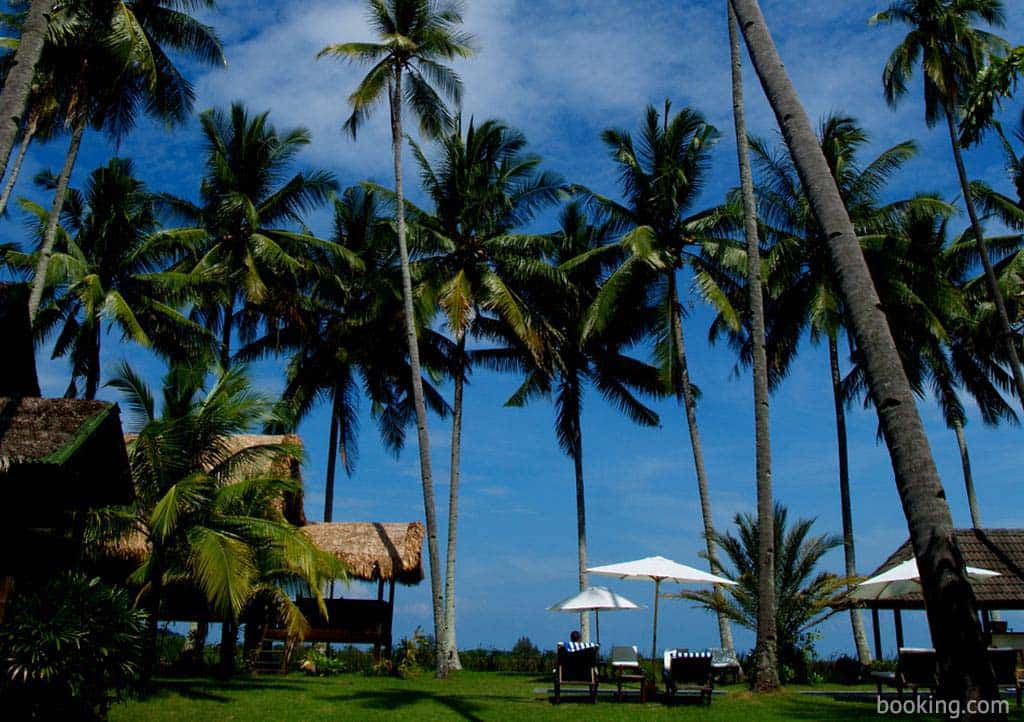 Just about 5 minutes away from Pantai Cenang, Bon Ton Resort is situated in a quiet part of the town of Langkawi. Made up of 8 villas, each over at least 50 years old filled rich with Malaysian heritage. Your furry friends will have plenty of space to run around between the villas as this land was once a plantation.
The management allows guests with pets to dine in at their gazebo next to their restaurant. They can also choose to do it at the sunset deck alternatively. Moreover, the staff also provides home cooked pet food upon request, how awesome is that? However, keep your pets on a leash whenever they are on the premise.
Temple Tree at Bon Ton is not just a sanctuary to be at away from the busy town but also holds a meaningful purpose. Part of their proceeds from the hotel goes to the animal shelter next door, LASSie (Langkawi Animal Shelter and Sanctuary), which rescues stray dogs and cats on the island. The online platform also offers pet adoption services and does fundraising for the strays. You can give them a helping hand by visiting their website.
To get to Langkawi, there are 2 options for pet parents to choose from. The first is by flying through Malaysia Airlines, but you will need to have a pet carrier and all of the necessary government documents. The second option would be by driving with your own car and getting on the ferry at Kuala Kedah. It's the longest but simplest route. Above all, you wouldn't have to worry about transportation once you've reached the island.
Pet-friendly hotels are much difficult to find in Langkawi as compared to homestays or resorts. If you search hard enough, you may be able to find them.
Website: https://bontonresort.com/
Facebook: Bon Ton Resort
Email: [email protected]
That's all we have for pet-friendly hotels in Malaysia for now! We hope you're ready to make some exciting memories after going through this. Feel free to share any pet-friendly stays with us that you know down in the comments below.
---
You may like:
PledgeCare designs its blog posts to help and inspire dog parents who wish a healthier every day for their dogs. If you're curious about our air-dried raw, Malaysian, human-grade and super healthy dog food, check out: https://pledgecare.org/